We say it all the time: Ingredients Matter. Sometimes we're talking about Action Wipes, sometimes we're talking about the Honey Healing Stick, and today we're talking about our CBD products; specifically full-spectrum CBD, and how it differs from CBD isolate. Here are five key takeaways:
1. Full-spectrum hemp-derived CBD oil refers to pure hemp oil which includes the same cannabinoid profile present in the original hemp plant. This is why our products have 0.3% or less TCH. (Yes, it's still legal, no 0.3% or less cannot get you high.)
2. The inclusion of hemp plant's components in our products is crucial because we are thereby including all the beneficial properties of hemp, in conjunction with CBD. In other words,
the sum is greater than the whole of the parts
, also known as "the
entourage effect."  

3. The "entourage effect" is what makes our products work. CBD isolate on its own doesn't have all its buddies (aka ingredients) to react with.

Let's use an analogy as an example: You need to move your couch down a flight of stairs. It's huge, awkward, and heavy; you're momentarily thwarted. But wait! Suddenly, all your friends show up! What great timing. Together, you all move the couch to its new destination one floor down. Celebration ensues.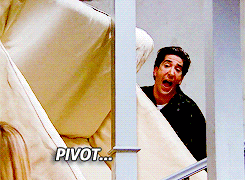 It would go better than this
4. The amount of hemp-derived CBD is the total amount of active CBD. Unfortunately, not all companies disclose the true number.  For example, the CBD we get is 87% pure. To boost this number to a true 100%, we add 13% to make sure the
active

 
CBD weight is exactly what we say it is on the package.
5. You know what else is awesome? Our hemp-derived CBD is grown organically in Colorado (and of course, non-GMO!). Take that,
Monsanto
.